FDL-FUEDAL
Updated 090531
---
TITLE: Feudal
PUBLISHER: The Avalon Hill Game Company (TAHGC)
SCOPE:Game of Siege and Conquest
TAHGC CATALOG DESCRIPTION: Medieval wargame , armies move in chess-like fashion to maneuver kings, princes, dukes, knights, squires, sergeants, archer and pikemen.
GAME BOX DESCRIPTION: FEUDAL, exciting medieval war game combining military strategy with chess-like moves as armies of 2 feudal kings battle to the death. Each army is secretly deployed, making every game different and challenging. Rough and mountainous terrain can aid or hamper attempts to thwart the enemy or lay siege to their castle.
YEAR PUBLISHED (EDITIONS): 1967. Only one published edition, published over a great span of tim e.. Some sets are in the two piece box, some in the three piece format with an inner sleeve.
CREDITS (Can't find them in the game).

Game Design Development:
Cover Painting:
Prep Department Coordinator:
Graphics:
Printing:

NUMBER OF PLAYERS: 2-6.
WGA COMPLEXITY SCALE (1-10): 2
TYPICAL PLAYING TIME (HOURS): 1 hour
MAP SCALE: not applicable, similar to chess
UNIT SCALE: Individual pieces representing Kings, Prices, Dukes, Archers, Squires, Knights, Sergeants, and Pikemen.
TIME SCALE PER TURN: not applicable, similar to chess
NUMBER OF GAME TURNS: not applicable, similar to chess
PARTIAL ARTICLE LISTING: Click here
GAME INVENTORY: 12" x 12" folding plastic board with printed terrain and peg holes, six color armies, divider screen, rules, three part sleeve bookcase box. Hard plastic units with pegged bottom for long time durability. My sets are 30+ years old. Some sets have the map in for individual pieces; others have two joined pieces.
WBC & AVALONCON HISTORY: Never made it as an Avaloncon event.
PBEM TOOLS:
PBEM OPPORTUNITES: Contact Wargame Academy if interested. A Boardgamer Player Association PBEM tournament can be organized by WGA pending suitable interest.
WARGAME ACADEMY COMMENTS: Play is similar chess however terrain restricts some movement of different units, all units may move in a turn, and hidden variable setup. High unit attrition in initial turns. Excellent quick play alternative to chess played by 2 - 6 players as individuals or in teams.
WARGAME ACADEMY GAME TOOLS: Softcopy rulebook., Five game sets.
PICTURE: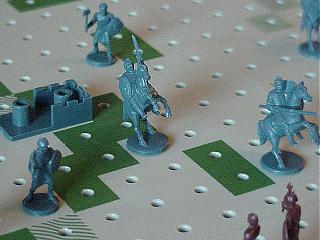 Please send comments and corrections via to
Wargame Academy
Go to the Wargame Academy main page