SQUAD LEADER DOCUMENTATION: ROLES, QUESTIONS/ANSWERS, UPDATES
Revised 170928
---
RULEBOOKS
SQUAD LEADER RULEBOOK

5TH Edition; current SQLA project for MMP.
4TH Edition; Last Edition published by TAHGC in1980; upgrading SQLA internal color illustrated softcopy document using VSQL module graphics and to be placed on a MMP site, targeted for March 2006. Access presently limited to SQLA development team for internal use only.
3RD Edition; TAHGC 1977
2ND Edition; TAHGC 1977
1ST Edition; TAHGC 1977

CROSS OF IRON RULEBOOK

5TH Edition current SQLA project for MMP.
4TH Edition; Last Edition published by TAHGC in 1981; upgrading SQLA internal color illustrated softcopy document using VSQL module graphics and to be placed on a MMP site, targeted for March 2006. Access presently limited to SQLA development team for internal use only.
3RD Edition; TAHGC 1980
2ND Edition; TAHGC 1978
1ST Edition; TAHGC 1977

CRESCENDO OF DOOM RULEBOOK

2ND Edition; current SQLA project for MMP.
1ST Edition; Last Edition published by TAHGC in 1980; upgrading SQLA internal color illustrated softcopy document using VCOD module graphics and to be placed on a MMP site, targeted for April 2006. Access presently limited to SQLA development team for internal use only.

GI: ANVIL OF VICTORY RULEBOOK

3RD Edition; current SQLA project for MMP.
2ND Edition; Last Edition published by TAHGC in December 1980; upgrading SQLA internal color illustrated softcopy document using VCOD module graphics and to be placed on a MMP site, targeted for May 2006. Access presently limited to SQLA development team for internal use only.
1ST Edition; TAHGC July 1980

CROSS OF IRON CAMPAIGN GAME RULEBOOK

1ST Edition; SQLA Document; work in progress; access limited to SQLA development team; consolidated SQL/COI rulebook.

GIA CAMPAIGN GAME RULEBOOK

1ST Edition, Document; work in progress; access limited to SQLA development team; consolidated SQL Series rulebook rulebook
RULE CLARIFICATIONS
SQLA Rule conventions for SQLA sponsored events. This summary addresses the numerous 'gray' areas in the PREASL rulebooks. Such are not considered officially sanctioned by TAHGC/Hasbro/MMP or any other body and therefore cannot be forced upon players mid-game. It is strongly recommended that new player pairings review these conventions and negotiate where the individual players involved disagree prior to start of a match. The intent of the rule conventions if to define a standard interpretation of rules which will be used PRIOR to the start of the game rather than DURING a game. The latter situation is unfortunate and avoidable as one player will not be happy with the the ruling sought out which will often influence of the outcome of the contest. A present point of contention is this version of conventions contains both clarifications due to 'holes' in the rules and those that prohibited legal but tacky maneuvers which are specifically treated in later rulebooks.
SUPPLEMENTAL RULES OF COMBAT
Supplemental Rules of Combat for SQLA sponsored events. This supplement compiles rules from throughout the rulebook and Q/A into one relevant paragraph and provides guidance for uncommon situations. The rules are oganized by the firing unit type and the target types. Players may find it useful for quickly finding rules and resolving obscure situations. It is primarily focused on rules through 103. Judgement was used with certain ambiguous, conflicting rules and unaddressed situations. Not every rule is included and this supplement is not a substitue for knowledge of them
QUESTIONS AND ANSWERS
SQL Series Q/A 2006b060725WBC; (430 KB; PDF) is the updated version of the compiled Squad Leader series Questions and Answers originally issued by Roland Gettliffe in 1995. Roland's text document has been reformatted with additions of key paragraphs from the inside cover of the COI rule booklet (half hexes, sequential entry), COD rule booklet (Heat availability) and the GIA game chart (infantry height advantage). All changes from the 1999 version are in Boldface. The file has been converted to a PDF file or use by all platforms. Note: the Find function is useful for quick reference. The reference is considered applicable to all WGA/SQLA PREASL events although superseded by Squad Leader Academy's Rule Conventions.
If you want to receive general discussion from the Squad Leader email group, submit your question to the SLlist. Beware some may justify opinions based on emotion, philosophy, memories from a previous lifetime, and intuition of the designer/developer being misquoted in tech rulebook.
if you want a quick answer with supporting justification, contact SQUAD LEADER ACADEMY
If you want an binding official ruling from SQLA for SQLA events, contact SQUAD LEADER ACADEMY
If you want an 'official' ruling from MMP contact MMP designee contact Alain Chabot. SQLA and MMP will strive to resolve any differences as both use rulebook search of the entire SQL Series and ASL documentation.
RULE UPDATES
5.5 Walls and Hedges; almost done; sorely needed.
31.0 TRANSPORTING INFANTRY / TANKS AND SP GUNS as a html file.
49.0 NIGHT RULES as a MS Word 6.0/95 26K file or as a text file (not color coded).
Please contact SQLA to identify other rule sections whose revisions should be prioritized for revision.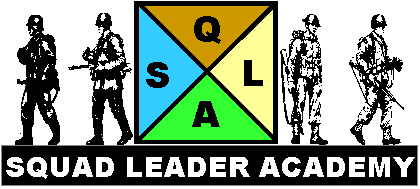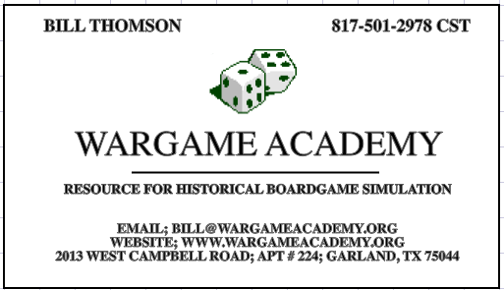 Return to Wargame Academy Main Page